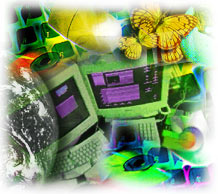 FEATURE TUTORIAL OF THE DAY:

UPDATES FROM ADOBE PHOTOSHOP 6.0 TO ADOBE PHOTOSHOP 7
Upgrading from Adobe Photoshop version 6.0 to version 7.0 will give you a new look and feel of the program.

As you can see from the toolbars at the left icons, version 7.0 are a little more shaded and slightly less boxy that in the older version. When you select a tool in version 7.0 it turns from black and white to colored icons... nice feature, isn't it?
The infamously bad spelling of designers can also now be avoided because the latest version has a Spell Checker (finally!)

The "Save For Web" feature has been around since version 5.5, but only now can it let you zap the color you want to make it invisible or transparent with just one swift click of the mouse.
In the Tool Presets palette, you can now create your own custom parameters and save them for later work. Next time you need that customized flowery brush, it'll be ready and waiting.


The Pattern Maker plugin is another dazzling feature that lets you create seamless pattern tiles for web site backgrounds.

The Auto Color Command is another shortcut that will automatically fix typical image color problems.

The all-new painting engine allows you to tweak a variety of settings (including shape, texture, and size), which also allows the creation of an almost infinite number of customizable tools.
The Healing Tool is another powerful tool for making retouches easily.

The File Browser is a new customizable tool which offers a bird's eye view of image directories (including thumbnails and basic file data) and lets you make batch after batch of changes.

( More of these tutorials courtesy of Terra Lycos at WebMonkey)