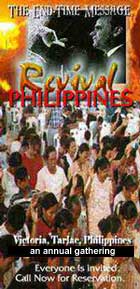 You are cordially invited!
Everybody is welcome to partake with us in fellowship around the Word of God of the Hour for full straight four days in December this year. We are holding again our 21st annual nationwide camp meeting in Victoria Hall, Victoria Town, province of Tarlac, Central Philippines.
This camp is hosted by pastors in the area - Rev. John Balbin, Rev. Billy Magno, Rev. Celiz Acuin, Rev. Ruffy Borja, Re. Dolphy Pidelino and Rev. Alfred Guiam, as supported by ministers and congregations from all around the islands of the Philippines. The Bride of Christ reaching to more than 2,000 believers congregate here in great expectations, to share testimonies, to sing specials, to meet new brethren, and to hear anointed sermons from visiting missionaries from around the world. December 1998's preachers were Rev. Don Bablitz from Yukon, Canada and Rev. Ted Posedley from Tucson, Arizona, USA; while last year's preachers were Rev. Gerd Rodewald from Schomberg, Germany and Rev. Ernie Villanueva from Cloverdale BibleWay, Canada. This year's preachers are still indefinite, pending the confirmation and intention of foreign brothers who may wish to come.
Anyone interested to partake with us in this blessed gathering this year may email us. Surely we can provide you with decent lodging and accomodations in the locality. Any form of help you can also extend to sponsor some of the needs of the meetings will be greatly appreciated and will be well-acknowledged. God bless you all!